Find Green Homes for sale
Welcome to GreenHomesSanDiego.com, where we promote green homes for sale in San Diego. Our goal is to be the premier search site for forward thinking green living enthusiasts to find or market green homes in San Diego County.
---
From LEED Platinum luxury homes to Miro-unit multi-family urban infill....from unique Straw bale / ICF construction to water conservation & Green Landscapes. We will now be focused on "mini-tours" covering 1-3 properties. We expect to run 3-4 tours/year.
Next Tour: Whole house Electrification - Summer/Fall 2023
Contact Adam if you know of an All Electric Green Home for our next tour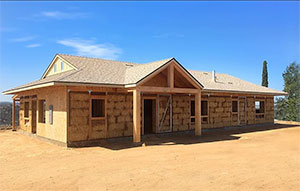 Tour Date:
TBD

View the Green Homes Mini-Tour Series Website



Interested in Sponsoring a Tour?
Know of or own a Green Home to submit for the Tour?

Contact Adam Pascu via cell: 858-761-1707 or website inquiry
---
Mazatlan Way, Poway, CA 92064
Call/Text/Email Adam to Sell your green home: 858-761-1707 or website inquiry
1344 sq ft interior
3 bedrooms
2 bath
Lot Size: 10,000 sf
Year Built: 1974
Water Conservation
Solar
Green Home Features:
The homeowner has done a number of green home improvements with sustainability as her goal. Some of these upgrades translate to notable savings such as energy retrofits & Solar which add up to a savings of about $200/month as the yearly SDGE true-up cost is just $200.
Water:
Grey water: Laundry to landscape setup feeds fruit trees
Rain Water harvesting: rain barrels collect from roof and discharge with manual spigot
Energy:
tankless water heater
Dual-paned windows
cool wall coating paint on exterior
insulation in attic
whole house fan & ceiling fans (no A/C!)
Photovoltaic Solar Panels from Vivint
LED lighting
Landscape:
Landscaping is mostly drought tolerant with many California natives
Years of Soil Amendment using worms, mushrooms, mulch & compost.
Re-used Urbanite
Organic Fruit Trees
Compost pile
Onsite Biomass preservation (leaves etc all stay on-site)
Click here for more photos & information
---
3696 Alta Loma Dr, Jamul, CA 91935
Call/Text/Email Adam to view this green home: 858-761-1707 or website inquiry
3460 sq ft interior space
3 bedrooms
2 full baths
Lot Size: 1.42 acres
Year Built: 2000
Views: Panoramic
Pool: Private w/views!
Welcome to this architectural masterpiece and forward-thinking green home with panoramic views overlooking Steele Canyon Golf Course! Designed by world class San Diego architects, Hubbell & Hubbell, this unique masterpiece is sure to wow any visitor to this home. Recognized with multiple awards & in multiple publications. Wood floors & custom tile work throughout. Vaulted ceilings, arched windows and open layout bring in abundant natural light. New metal roof. Private & tranquil location on top of the hill adjacent to a wildlife sanctuary preventing further development. Beautiful Pool & patio area has panoramic views all the way to the Ocean!
Short-list of Green Homes Features:
1. Hot Water Solar Panel system - saves money, reduces carbon footprint
2. PV Electric Solar System - saves money, reduces carbon footprint
3. Straw Bale construction (super insulated) - saves money, reduces carbon footprint, fire & mold resistant
4. Boulder in middle of home acts as natural energy regulator absorbing solar heat during the day and releasing heat in the evening. Combined with the central tower that draws hot air up and out in summer and recirculates warm air in winter. Save money, reduce carbon footprint, healthy air from natural heating/cooling.
5. Pond around Boulder regulates temperature and humidity - save money, reduce carbon footprint, live comfortably w/healthy air
6. Site plan designed to take advantage of local wind patterns - save money, reduce carbon footprint, live comfortably
7. Natural Plaster walls - mold resistant (regulates moisture), non-toxic chemical free healthy air
8. Water Well - save money, conserve water
9. Drought tolerant xeriscaping - save money, conserve water